Sales Client Type Report
Track sales by client type using the new Sales By Client Type report category and the Subtotal by Client Type reports! These reports can be helpful in gathering data regarding sales made by specific types of clients.
Sales By Client Type Report Category
The Sales by Client Type Report category features reports that display information about inventory items sold to clients in Envision Cloud, grouped by client type. These reports can be used to analyze and assess sales based on client types.
Reports > Sales Reports > Sales by Client Type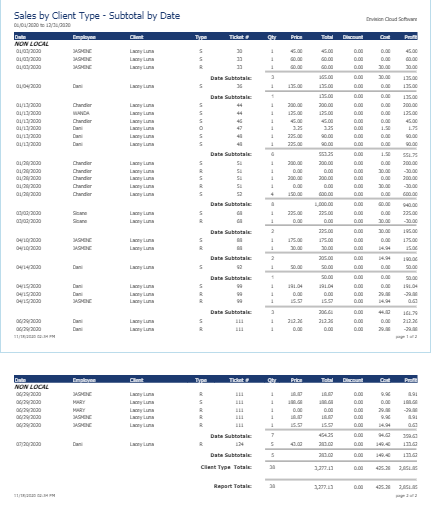 Subtotal By Client Type Reports
These reports will have the first additional sort option set to client type. The First Additional Sort is the first column of your report. These reports display the client type which can provide information relating to the kinds of clients visiting your business and their purchasing patterns.
Reports > Sales Reports > Select a "Sales By" Category > Subtotal By Client Type