How to to add, edit and assign appointments to a group
The Groups feature is available with the Preferred & Ultimate editions of Envision Cloud. To upgrade go to Manage Account > Modify/reactivate subscription plan.
Click on the Manage Groups/Parties option on the left hand side of the calendar under Appointment Options.
Schedule > Appointments > Appointment Options > Manage Groups/Parties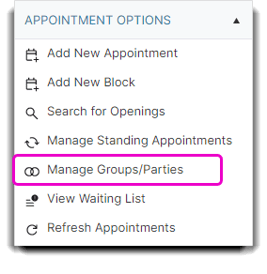 Once selected, you will see this popup which will able you to add, edit or delete groups from the appointment calendar. You can do this under Group Details on the bottom half of the popup screen.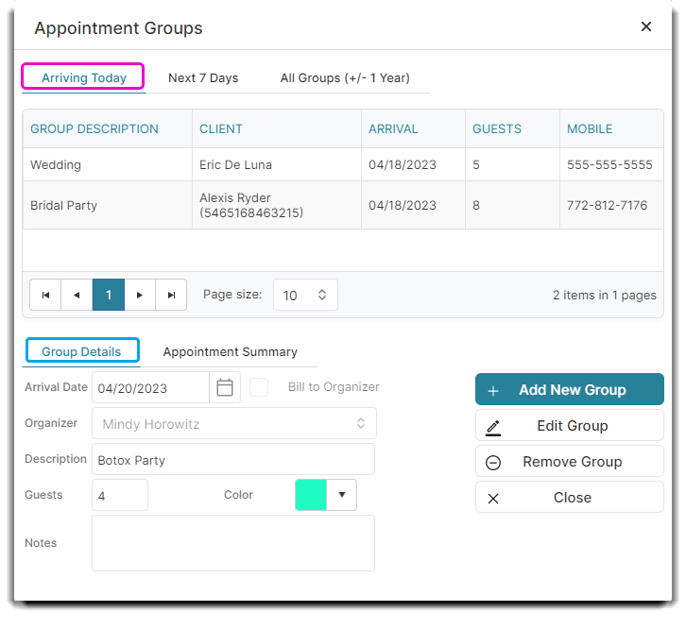 Add / Edit Group
Select the Add/Edit button.


Enter a description for the group. It is recommended to be specific when naming a group to alleviate confusion between groups with similar names.


You may choose a client as the the group organizer or contact person for the group.

Enter the date of the group's services.


Enter the number of guests in the party.
Optionally, you may select a color that appears on the appointments assigned to the group booked on the calendar.

Enter any specific notes for the group.


Select to Save.