An overview of the appointment progress option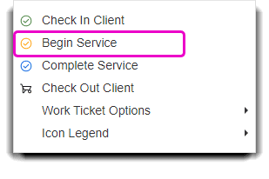 Selecting to begin service will show that the appointment has started for the client and provider. This is used in a report to show how long it takes providers to perform specific services.
The Client Appointment Progress screen is available with AestheticNow. To upgrade your account, please contact our Sales Team at 321.307.9099 or sales@aestheticnow.com.
With AestheticNow, you have the option in the Company Settings to enable an option to use an enhanced window to add the appointment to the Appointment Progress screen. You can find this option under Schedule Options > General Schedule Options > General Options. The checkbox is shown below.

If this feature is enabled, you will have a window pop up after selecting to begin a client's service.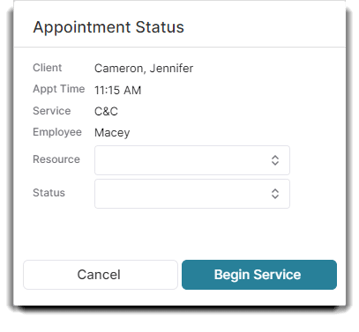 Use this box to enter the resource and appointment status.
Once entered, select to Begin Service. This will allow the appointment to show on the Client Appointment Progress screen. To learn more about the Client Appointment Progress screen, check out this article.