How to use the Employee Time Clock feature
The Time Clock can be a valuable management tool. Even employees that are not "on the clock" will have requirements for attendance. The hours recorded when each employee Clocks In and Clocks Out here will be available for payroll.
The Time Clock can be reached by hovering over Employee on the Tool Bar and selecting Clock In/Out from the drop down.
Employee > Clock In/Out
You will see a popup like the one shown below.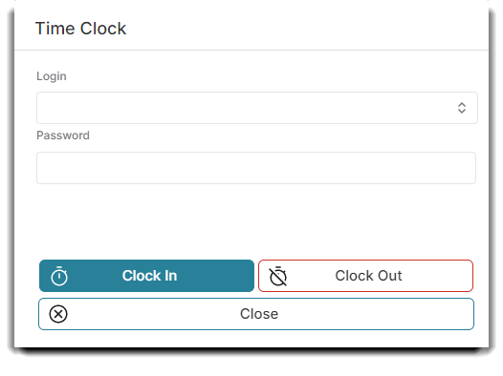 Time Clock Employee Login & Password
Employees will use the email login and password they use to log in and out of Envision Cloud (The drop down can be used to select the employee login).
Time Clock Clock In / Clock Out
After entering their Employee ID and Password, employees will click one of these buttons to clock in or out.
Important Note: Employees closing in or out cannot perform illogical operations.
For example, if they clocked in yesterday but never clocked out, they can't clock in again until they clock out from yesterday. Clock in and clock out times and dates may be adjusted in the Manage Time Card Records screen.