How to set up integrated credit card processing
Credit Card integration is available as an add-on to Envision Cloud. You can add this feature by going to Manage Account > Signup for add on services > Integrated Credit Card Processing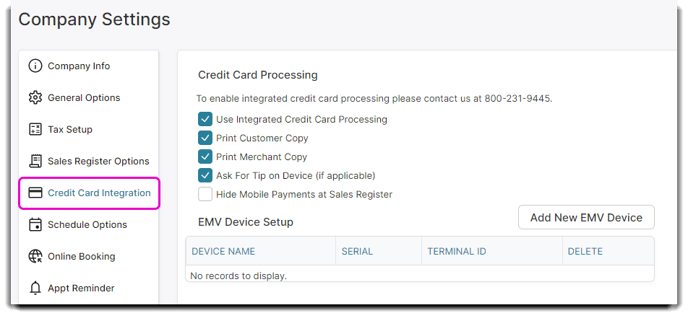 Use Integrated Credit Card Processing
To process credit cards through Envision Cloud online, you will need to sign up for a merchant account with our integrated payments solution.
Print Customer / Merchant Copy
Select the receipt type(s) to print when completing a credit card transaction.
Ask For Tip on Device
This will prompt your customers to leave on tip on their credit card while they cash out.
Hide Mobile Payments at Sales Register
This will remove the mobile payment option from the Sales Register at check out.
Credit Card Processing Device
Select from EMV or Non-EMV device. EMV is specific to using credit card chip technology. If you select EMV Device here, you will need to configure the setup below.
EMV Exceptions
If you are using integrated EMV processing and need to use credit cards saved on a client's file, you will need to check this box while logged into a non-front desk computer.
Selecting this option is not recommended for computers that process cards normally, like front desk computers.