How to use the custom SOAP Attributes List feature
The treatment screen is available with AestheticNow. To upgrade your account, please contact our Sales Team at 321.307.9099 or sales@aestheticnow.com.
SOAP Attributes allow you to make detailed records for your medical documentation. Feel free to customize these options to what works best for your practice. SOAP notes typically document elements of the client's treatment plan. Common attributes include conditions or reactions.
To open the SOAP Attributes List, hover over Medical on the menu bar, hover over Medical Options, and click on the SOAP Attributes List. Add, edit, or delete custom SOAP note attribute from this list. Each option entered displays as a checkbox on the treatment screen. SOAP notes are added to a client's record during treatments.
Medical > Medical Options > SOAP Attributes List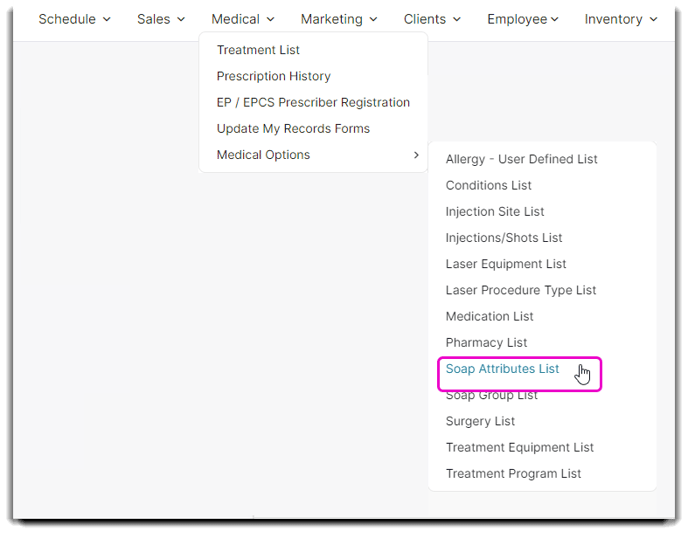 Once on the Custom Attribute List page, you can add, edit or delete SOAP attributes.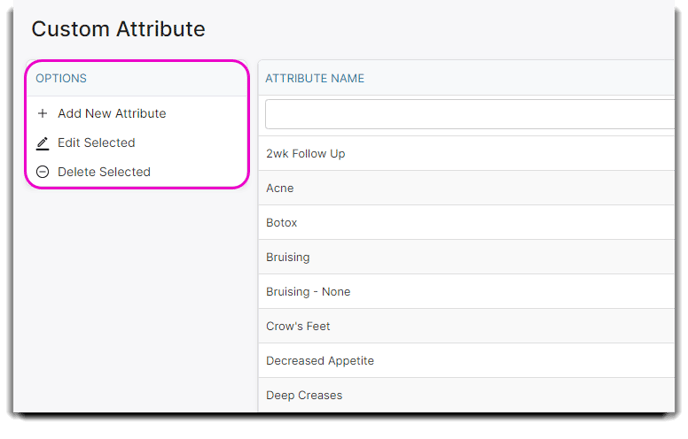 When choosing to add a custom SOAP note attribute, you will be able to select the category section to show under. This will show the information entered here as a checkbox to choose when entering treatments.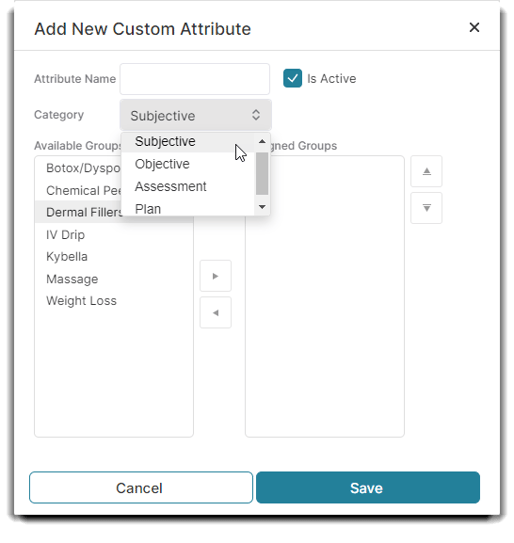 You can also mark the custom SOAP attribute as active or inactive. This will allow you to hide attributes you no longer use or need, while still keeping accurate records.
Available Groups / Assigned Groups
The Available Group and Assigned Groups is to help make adding items easier to the SOAP tabs. You can assign certain groups and see them automatically for a attribute name. Move an available group to the right to Assign, and to the left to un-assign.