How to manage Membership Billing through Envision Cloud
This screen can be used to bill any clients that have a membership. If the membership programs you sell have monthly billing cycles, you will need to use this screen frequently to bill your clients. If your clients' "Next Bill Date" varies, you may need to use this screen every day to process their payment, or you can enable automated billing in your Company Settings.
Manage Membership Billing Screen
To open the Membership Billing screen, hover over Clients on the menu bar, then find the Membership Options tab and click on Membership Billing.
Clients > Membership Options > Membership Billing
The Membership Billing list is your subscription list. You can search by client name, membership program and status. The subscription list also includes the next bill date, last bill date, amount, terms, retries, billed and action date.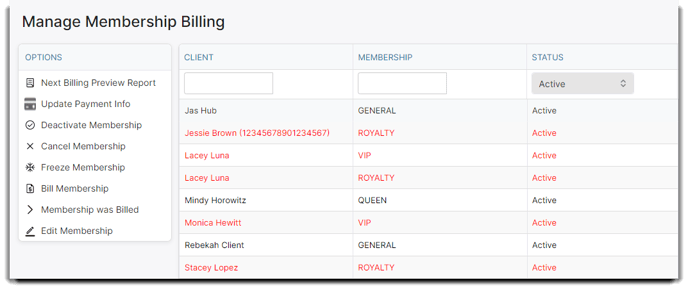 At the top right corner of the Manage Membership Billing page, you will find the Start Billing Cycle button. You can use this to start your membership billing.

Subscriptions List
When you first open this screen, you will see a listing of all the active membership subscriptions. In this list, you will be able to view all of the details of each client's membership subscription. Select the Status dropdown to toggle between Active, Deactivated, Cancelled, Frozen, Cancel on Date, and Frozen Until subscriptions.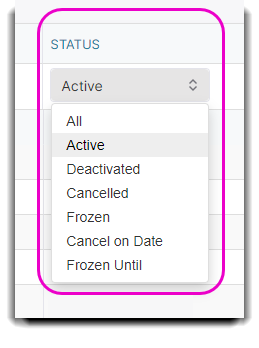 Membership Programs are available in the Preferred & Ultimate editions of the Envision Cloud program. To upgrade, please contact our Sales Team at 800.231.9445 or sales@ennoview.com. Memberships require credit card integration.
Credit Card integration is available as an add-on to Envision Cloud. You can update your account on the Account Management Subscription Page.
Client Billing History Tab
At the bottom of this screen you will be able to view the selected client's billing history under the Client Billing History tab. To select a client, click on top of their membership subscription in the subscription list.
Company Billing History Tab
This tab allows you to view all of the membership subscriptions that have been billed, including the initial sale of each membership account.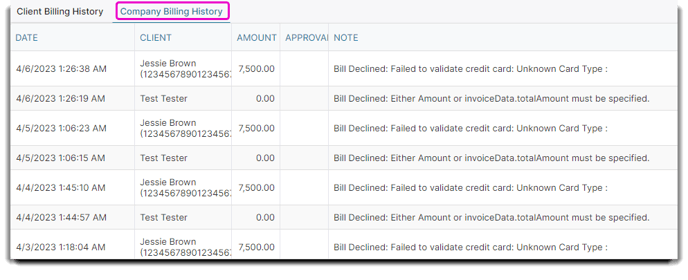 Right-Click Menu Over Active Membership
The following options will be available if you right-click on top of an active membership subscription.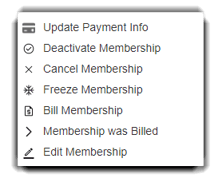 Update Payment Information
Select this option if you would like to update the client's credit card information. Selecting this option will open the Edit Client screen for the selected client. Click on the Update Payment Info tab at the bottom of this screen to edit the client's credit card billing information.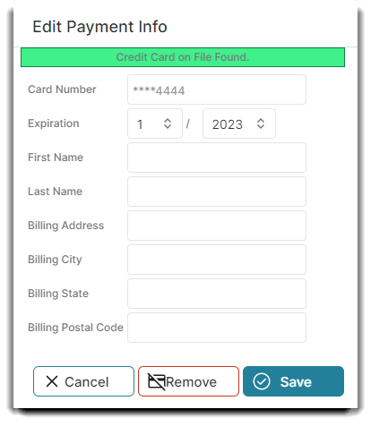 Deactivate Membership
Select this option if you would like to deactivate a client's membership. The Status checkbox will be unchecked after selecting this option and the client will not be able to use their membership or the benefits of their membership.
Cancel Membership
Select this option to terminate the membership and stop future billing for the client. Membership can also be set to cancel in the future.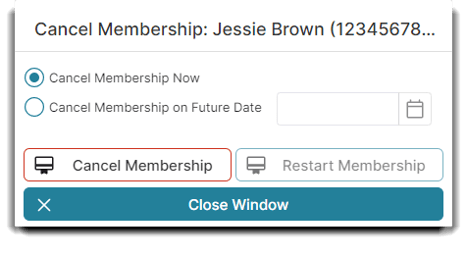 Freeze Membership
Select to freeze a membership to stop billing the client. You can also freeze a membership until a future date when they'd like to reactivate.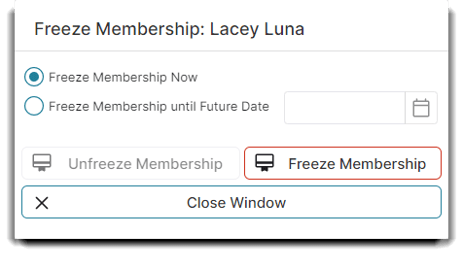 Bill Membership
Select this option if you would like to manually bill a client's credit card for the selected membership. This can be used if you would like to bill only one client and not all clients in the subscription list.
Edit Membership
Select this option to update membership information, including the next billing date.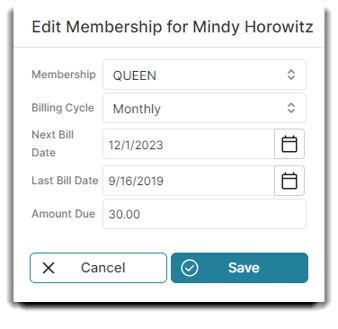 _________________________________________________
Right-Click Menu Over Inactive Membership
Reactivate Membership
Select this option to resume a membership. The billing date will not update until the client has been billed.
Start Billing Cycle Button
When you are ready to start the Billing Cycle for all Clients, click the "Start Billing Cycle" button. This button can be used to process both ACH Billing and Credit Card Billing.
It is strongly recommended to run the Next Billing Preview Report if you are using credit card processing for membership billing.

Parent Accounts are used when you want to affiliate another client's account with a primary account holder to pay for a membership (the Parent Account would be considered the primary). This is most often used for family relationships, such as a parent and child. Parent accounts can also be used for booking a child online.
To add a Parent Account to a new or existing client with a membership, open their Client Record from the Client List screen. In the demographics tab, you will see a dropdown box where you can select the Parent Account you want to charge the client's subsequent memberships to.