Learn how to add pharmacies to your pharmacy list
eRx is available with AestheticNow. To upgrade your account, please contact our Sales Team at 321.307.9099 or sales@aestheticnow.com.
The Pharmacy List is where you can store your patients' preferred pharmacy information for quick and easy access! ✨
💡 Helpful Tip: You can still access the pharmacy list and add a preferred pharmacy to a patient's profile if you do not have an eRx subscription. You can use this information to contact your pharmacy about prescribed medications. You will not be able send prescriptions electronically if you do not use eRx.
You can also use this screen to search for pharmacies by store name, address, city, state, zip code, and phone number.

To add a new pharmacy, hover over Medical on your main toolbar, then hover over Medical Options and click on Pharmacy List.
Medical > Medical Options > Pharmacy List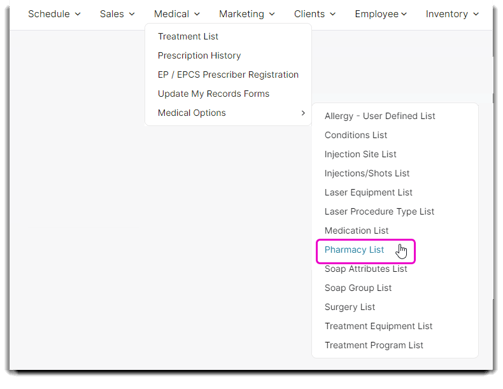 When you get to the main screen, select Add a New Pharmacy on the left side. Or, select an existing pharmacy and click Edit Selected Pharmacy to make any changes.
In the Pharmacy Search popup window, you can search for a pharmacy using the pharmacy's name, phone number, and/or location.
Click the search button to browse through pharmacies. When you find the pharmacy you're looking for, click on it, then click the Ok✔️ button to save it to your Pharmacy List.
💡 Helpful Tip: If the pharmacy you are looking for does not appear and you see "No record to display" in the search box: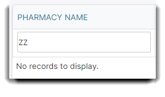 That means the pharmacy is not recognized by DoseSpot and you will not be able to send medications to that specific pharmacy.

To Save a Preferred Pharmacy to Your Patient's Record...
You can easily save a patient's preferred pharmacy to their patient record through the Client List.
Click on the Medical sub-tab, then select the Pharmacy dropdown field. The pharmacies you have in your Pharmacy List will appear here. If you do not see their preferred pharmacy listed, click on the search button (🔍) to the right of the dropdown field and search for the pharmacy as you would on the Pharmacy List, then select the correct pharmacy and click Ok✔️ to save.
Using the search button will automatically add their preferred pharmacy to your Pharmacy List. 🎉