How to create a Prebook Popup and track Prebooking percentages
Prebooking is an essential part of your daily business. It not only helps your employees take charge of their schedules, but is a way to secure future revenue and customer loyalty. You can reward your customers for Prebooking with things like Loyalty Points and Discounted rates, use the Daily Dashboard to view your current Prebook percentages, or use the Team Goals Setup feature to track your employee's Prebooking rates.
ℹ️ If the client books online or via the MyDash app, it does not count as a prebook in Envision Cloud. Only by using the prebooking options below will Envision recognize the appointment as a prebook.
How to Setup Prebook Options
There are two different Prebooking options that can be used together or individually.
Popup Message
Open your Company Settings, select Sales Register Options and open the General Options tab.
Company Settings > Sales Register Options > General Options > General
The second and third checkboxes are your Prebooking options.

Select the Show prebook reminder during cash out box to enable a Prebooking Popup message during the checkout process, like the one below: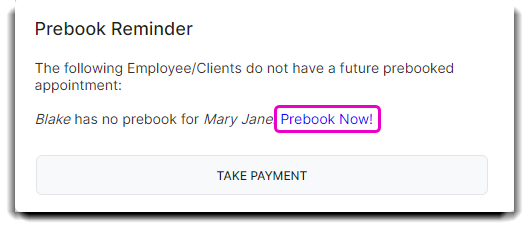 This message will appear when you click on Take Payment. You can either continue to the Take Payment screen or select the Prebook Now button, which will take you directly to the Appointment Calendar to book your Client's next appointment. Your ticket will remain open in the Sales Register. When you finish booking their next service, just select the Sales Register from the Sales dropdown to finish the checkout process.
Prebooking After Checkout
Selecting Allow prebooks to be made after checkout will allow appointments booked for this client on the same day to count towards your prebook numbers.
This is a great option if:
You'd prefer to complete checkout before you book your Client's next service.
You accidentally exit the Prebook Popup window without booking their appointment.
Your Client changes their mind and chooses to schedule an additional appointment after they've checked out.
Use both options together to accurately keep track of your Prebooking rates.