How to add Qualified Services Templates
Qualified services are used to designate which services specific employees are able or qualified to perform. You can create a grouping of services that providers of a certain type or level may perform by creating a template on this screen. Once created, the template can be quickly applied to individual employees on the employee profile.
Access the Qualified Service Template List by hovering over Employees on the menu bar, hovering over Employee Options, then selecting the Qualified Services Templates.
Employee > Employee Options > Qualified Service Templates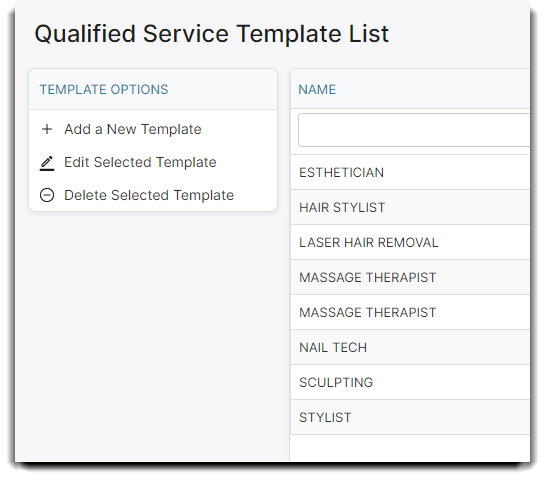 Select to Add a New Template in the option box to the left, or double-click over an existing record to open it. Choose individual services or service departments below, then click the applicable Add button to add services to this list. To add a service time, price, or commission, click on the pencil icon in the row of the service you would like to edit.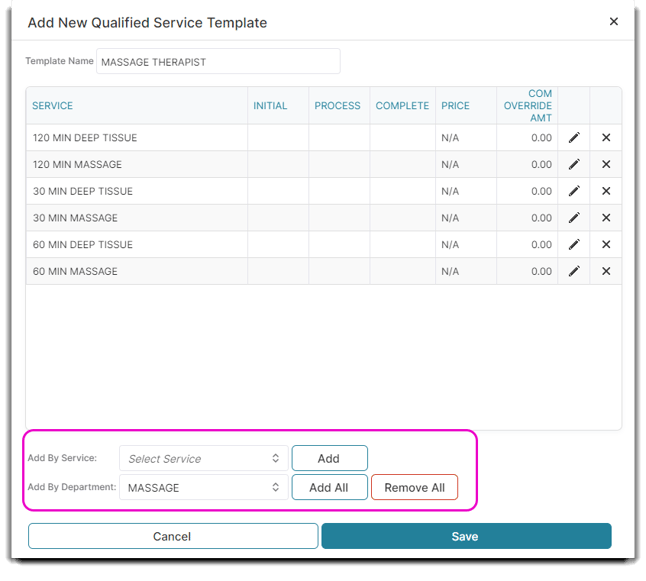 Services List
Services the selected employee is capable of performing can be entered on this tab. This keeps clients from being booked with providers that cannot perform certain services. The Appointment Calendar and Online Booking will obey this list if you have the option set in the Company Settings.

Service Time
This screen will also allow you to set the length of time this employee takes to perform a service. If the time will be the same as the time you have entered for the selected service, it is not necessary to edit the time. You can enter an "Initial" time, a "Process" time and a "Complete" time. When this employee is selected in the Appointment Calendar for an appointment, the times that you enter here will override the times that you have set for the service in the Service List.

Service Price
Enter a separate price that the selected employee charges if this price is different than the prices you setup when the service was added to the Service List. This price will override the service price when this employee is selected in the POS window. If the employee charges the same price that is entered for the service in the Services list, leave the price set to "$0.00".

Commission Override Amount
Enter the separate dollar amount that the employee earns when providing this service, if they will not be earning their commission percentage, or the commission override amount entered on the service.

Add by Service
Select individual services to be added to the list.

Add by Department
Select a department and all services within that department will be added to the list. You can also remove services in this fashion.

Edit list Item
Click the edit icon to edit the initial, delay time, complete time or price for a service. If edited, it will override the default setting under the service record when booked for this employee.