Resource View
An overview of the Toggle Resource View
The Resource View is available in the Preferred & Ultimate editions of the Envision program. To upgrade go to Manage Account > Modify/reactivate subscription plan.
Choose this option to view the appointment calendar with the appointment resources as the columns, instead of the employees. This can make booking easier while viewing which rooms or equipment is available.
Toggle Resource View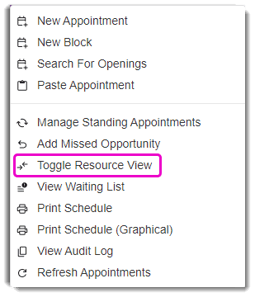 This may be set to be the appointment screen used by default by selecting the option to do so in the Company Settings. Also, resources will need to be set up in order to be viewed.
Under Company Settings, select Schedule Options and then Display Options and check the box for Open schedule to resource view.
Once this option is selected, every time the schedule is opened in Envision, it will default to the resource view calendar.
Resource View Example Calendar