How to process an exchange, return and item, or refund a service
Sometimes a client would like to return an item that didn't work for them as well as they thought, or maybe they want to exchange it for something else. Luckily, processing returns and exchanges are very similar to checking out a regular ticket.
🎁 How to Make an Exchange
Access your Sales register and select the client that is returning the product or requesting a service refund.
Select the correct product or service and add it to the ticket. Click to edit the line item by selecting the pencil icon. When you get to the Edit Line Item window, select the Return Item button: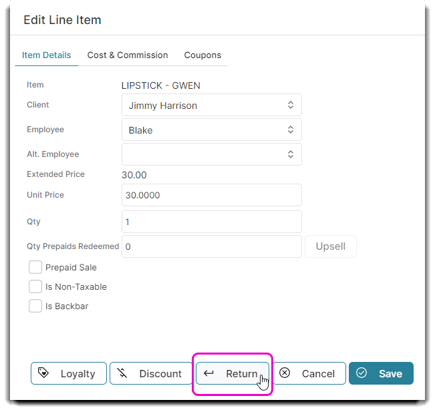 When this option is selected, the item or service will become a negative amount on the invoice listing:

Now you can select a new product or service for the exchange. If the exchange amount is higher than the new total, the remainder can either be refunded to the customer by cashback, a credit card, their card on file, or placed as a credit on the clients account. You can also sell the client a gift card for the amount being returned if you do not want to give cashback for returns.
🚫 How to Make A Return
Follow all steps listed above.
When you get to the Edit Line Item Screen, make sure to select the employee who made the original sale and then select the Return Item button.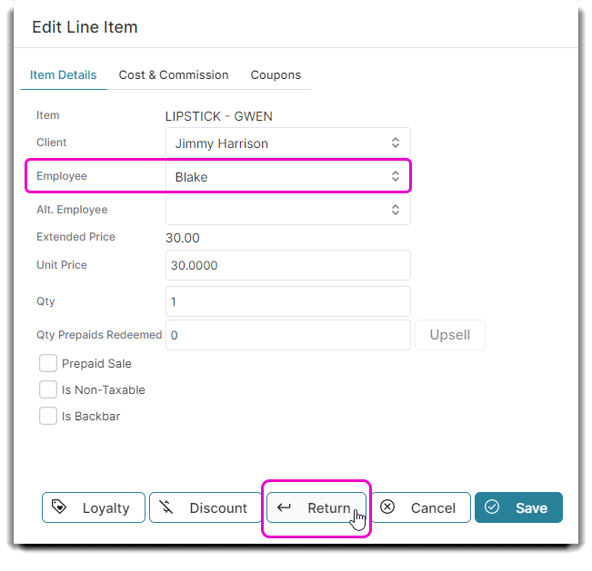 Please note: It is necessary to find out who sold the item originally so that when it is returned, this item will come out of the employee's total sales amount.
If this is a retail item being returned, choose whether to add the item back into your inventory for resale.

Select Take Payment, choose your return tender, and click Cash Out to fulfill the refund.