An overview of how to setup and use Tippy
To use Tippy, you must purchase a Tippy Device through www.meettippy.com/envision.
After you have received your device you are then ready to setup your device and connect it with your Envision Cloud account.
Click the links below to navigate to a section:
💳Setup Tippy Device
You've just received your Tippy device in the mail and now you want to start setting it up. The first thing you're going to do is open the box and turn it on. Feel free to plug in your device but it may have some battery left to setup. Once the device is on, follow these steps:
Connect your device to WiFi
Select the Tippy app
Enter the company code (found on a small welcome card in your box or on your tippy dashboard when you log into tippy.
Choose your location
Choose your user (users were input when Tippy device was purchased)
Retrieve the 6-digit code that the tippy device just sent to your email (the email is from the user selected in step 5 above) *Contact Tippy Support to add or edit users.
Enter the 6-digit code from your email into the Tippy device.
The device will then give you a code to be entered into Envision as the Device Id.
Now your device is ready to be connected to your Envision account.
🔗Connect Tippy to Envision
1. Navigate to the Tippy tab under Company Settings.
Company Settings > Sales Register Options > General Options > Tippy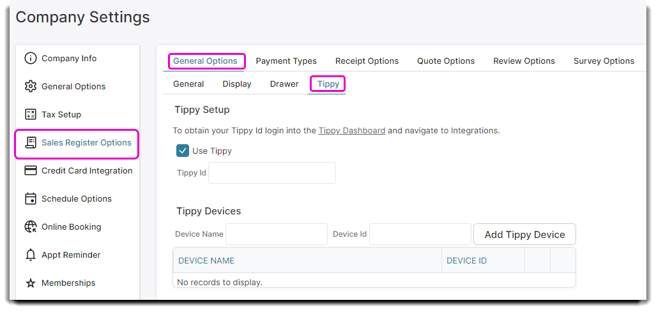 2. Click the ☑️Use Tippy checkbox, this enables tippy on your Sales Register, or POS.

3. Enter the Tippy ID provided by Tippy. You may click the link to guide you to your tippy account: https://www.meettippy.com/sign-in
If you get this connection error: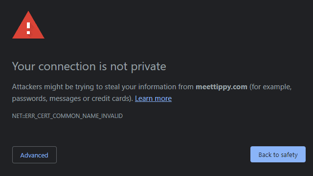 This is due to your security browser settings. To continue to your tippy account please click the "advanced" button and then on the link. It will lead you directly to sign into your Tippy account to retrieve your Tippy Id.
4. Enter in a device name and a device id. The device Id will come from the tippy device itself in step 8 above.

5. Click Add Tippy Device.

6. Call or email Envision (407.253.0913 - support@ennoview.com) to give us the code from registering your device. Once we insert the code into our system, your Device will be enabled for use!
---
💸 Performing a Transaction with Tippy
1. Ring up items like normal on the ticket in the Sales Register.

2. Click Take Payment.


3. Click the Tippy button on the take payment screen.

4. You will see Envision Cloud connecting with the Tippy device: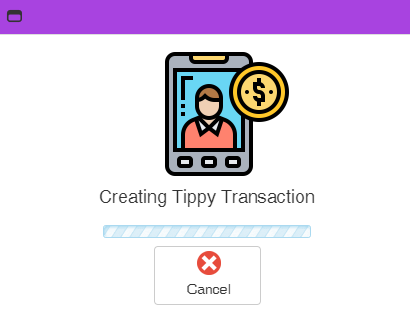 5. Turn the device towards the client so they can chose the tip amount they wish to tip.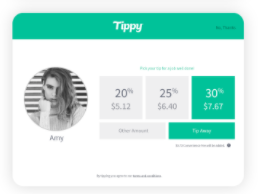 6. Once you are done with the tip the point of sale screen will update and allocate out the tips.

If you need to modify the tips you will can click the Cancel Tippy button and start the Tippy transaction over.
7. When ready, cash out the ticket like normal.
Note: A tippy device can only have one active transaction at a time.
---
🔄 Returning or Refund a Tip
You may only return a tip by voiding the ticket.
---
👨‍💻Tippy Support
If you are having trouble with your Tippy device, please contact Tippy support at: 1.855.831.2323
OR
Support@MeetTippy.com
There are also more options on the Tippy Support Site:
https://www.meettippy.com/support/