An overview of Today's Appointment List
Under Schedule, Today's Appointment List gives an overall summary of the day. A number of actions can be taken from Today's Appointment List. The times, clients, employees, and services for today's appointments all appear on this screen.
Schedule > Today's Appointment List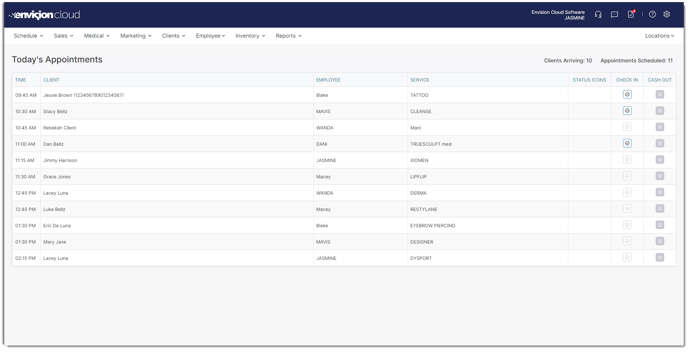 Clients Arriving
The number of clients scheduled for the day.
Appointments Scheduled
The number of appointments/services scheduled for the day.
Status Icons
The status icons that appear in this column are a green thumbs up for confirmed appointments and cakes for clients with birthdays anytime within a week of their appointment.
Check In
By clicking on a grey checkmark, the client will then be checked in for their appointment and the checkmark will become green. This will also be reflected on the Appointment Schedule. If a client has multiple appointments, checking them in for one appointment will check them in for all appointments for that day.
Cash Out
By clicking on the grey dollar sign, you will automatically be taken to the Sales Register and all the services a client had scheduled for the day will appear as line items. Once the transaction is completed, the dollar sign will become green on the Today's Appointment List.