Why Do Appointments Revert After an Edit?
How to stop an appointment from reverting back
If the appointment calendar isn't keeping changes or appointments revert, the most likely reason is that someone has checked the box to "Prevent this page from creating additional dialogs".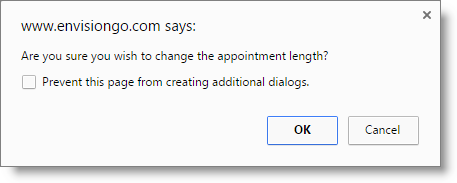 Steps to Allow Additional Dialogs
In the upper right of Chrome, click the three dots to open the menu.
Select settings- a google page for chrome will open with all your settings for chrome.
At the very bottom, go to advanced settings.
At the bottom of the advanced settings, click on Restore settings to their original defaults- this will make dialog boxes appear as they should.
IMPORTANT: Once you have done this, you will need to make sure that you set the browser to allow pop-ups for the Envision Cloud website.