How to view Medical Forms in your Client Records
Update My Records is included with AestheticNow. UMR is available to other editions as an add-on. If you are interested in adding UMR to your subscription, go to Manage Account > Sign up for add-on services.
RxForms are included in the Pro package of AestheticNow.
An easy way to view a Patient's Update My Records or RxForms medical forms is through their Patient Record.
Clients > Client List > Select [Patient Name] > Med Forms tab
To access the Patient Record, hover over Clients in the main menu and select Client List from the dropdown.
Select a specific Patient's Name, then click on the Med Forms tab in the right corner of the Edit Client popup window: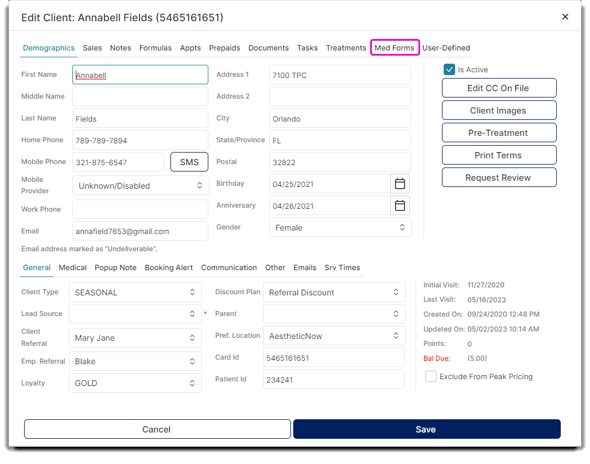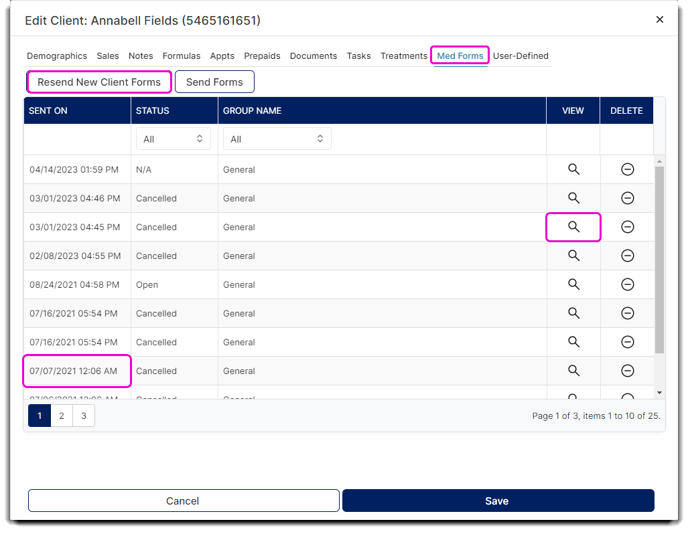 In the Med Forms tab, you'll be able to view and filter by form pack, view the exact time and date forms were sent to your Patient, and resend their New Client Forms.

Clicking this button will send the forms you selected in your company settings:
You can find these options under the Integrations tab in Company Settings.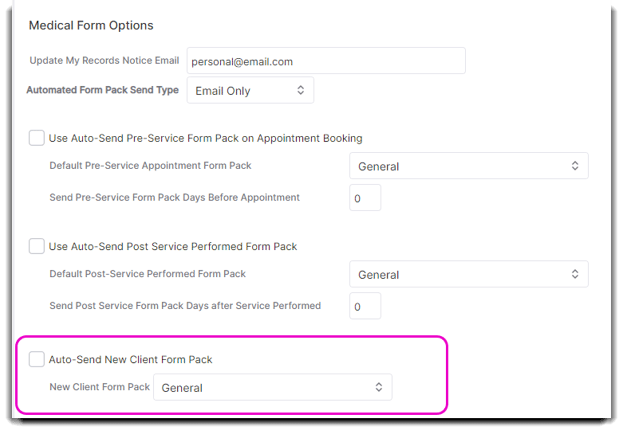 Click on a magnifying glass to open the documents found within your selected form pack.
Med Form Status
Status Options Listed
Open: No forms have been completed or cancelled. Open forms mean that the documents were sent to your Patient, but have not been completed yet.
Partial: At least one form is completed and at least one form is incomplete
Completed: Completed forms mean they have been filled out and are ready to be viewed and downloaded. To View only, select the icon in the "View" column. To download, select the checkbox for the document(s) you want and then click the Download Checked button.
Cancelled: Forms are canceled when you send the same form pack a second time, while the first form pack is still under a pending status. For example, if you want to resend a Patient the General form pack, the first form pack they received will be canceled while the most recent version of the General form pack will save with the finished documents.
N/A: This status will appear if there is any error in processing the status
You will always receive a warning popup message to notify you that you have already sent your Patient these forms, and the previous forms will be canceled: