An overview of how to create, edit, and organize forms for Admin/Office use
Update My Records is a secure electronic form system that allows businesses to send and receive forms digitally. You can send both Pre-Service and Post-Service Form Packs!
Update My Records (UMR) is included in Envision MedSpa/AestheticNow. It is available as an add-on to other Envision products. To add UMR to your account, please contact our Sales Team at 321.307.9099 or sales@aestheticnow.com.
Click the links to skip to a section:
Or click on the links below to skip to a question:
✅ Completed Forms
This is the first section of UMR that you will see as an admin upon logging into Update My Records.

You can view, delete, or download these forms here. You may also type in the search box to find a specific patient, email, form, or form pack. You can also sort your columns by clicking the title names to order alphabetically or if you click on the date titles you can sort by earliest or latest date:
🖌️ Form Designer
Formerly known as your Templates, this section will allow you to create, edit, and delete forms that you can send to your patients.
Adding sections to a new form:
Using the pencil icon, the name of the sections can be edited. You can delete sections using the red 'X' button, or add new ones by clicking the Add New Record button.
📁 Form Packs
These are groups of forms that are sent together to a client before or after an appointment. You can create a form pack, then add the forms you would like inside that pack. You can also delete and arrange your forms within your form pack:
📂 Form Categories
This section is to provide you with a way to organize your forms on the backend/ admin side. You create categories then assign your forms to one of those categories to better help you organize. To access form categories, hover over the Options menu and click Manage Form Categories:
To add a category to you forms you go to your Form Designer, click on the form you want to add the category to and at the top select the category. Or when you are creating a new form select the category at the top next to the title.
ℹ️ Company Info
This section is to add your company name, address, phone number, time zone and email. The address will be at the bottom of your forms.
💎 Import & Logo Settings
This section allows you to select the different import settings as well as add your logo so you can display it at the top of your forms.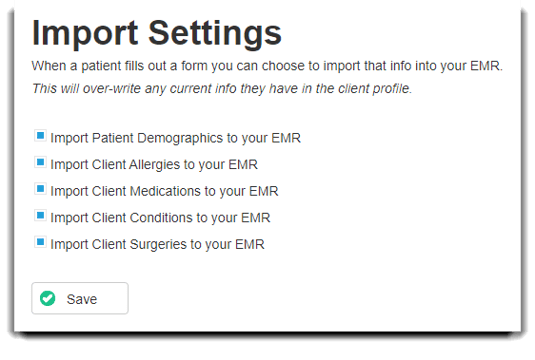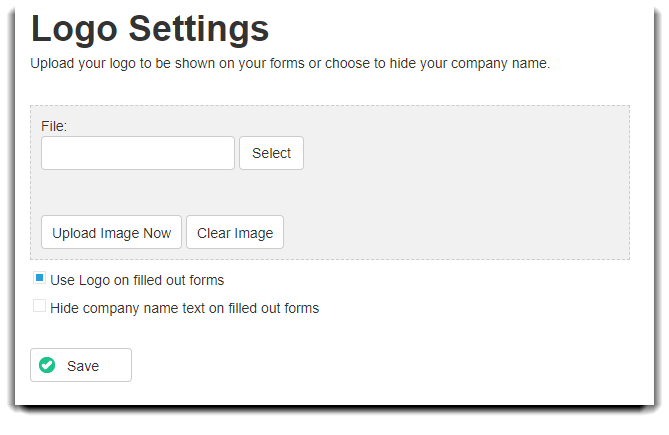 🕵️ Audit Log
This is a record of events and changes that each user has done. It lists when, what users, what they did, in what section and in more detail what they did.

You can export this log to an excel spreadsheet or a PDF by clicking the top buttons.
👥 Manage Users
If you are the owner of the practice management account or have Manage Accounts access you can add users and give them access to specific features inside UMR.